DTM 2015 - Lauf #02 Thruxton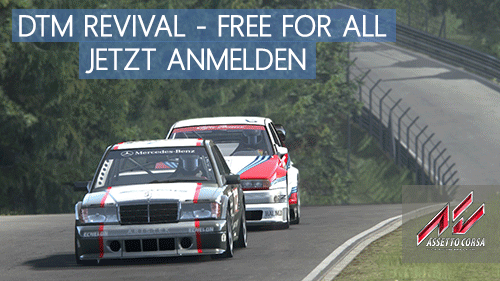 Thruxton Circuit is a motor racing circuit located near the village of Thruxton in Hampshire, England which is host of a number of motorsport events including British Touring Cars and Formula 3 racing.

Thruxton Circuit was originally constructed in 1940 as RAF Thruxton: a World War II airfield which was home to both the RAF and USAAF and was used during World War II for troop-carrying aircraft and gliders, including operations during the D-Day landings.

The circuit has been used to host motor racing events since 1950; with the circuit initially being used to host motorcycle races from 1950 and motor racing since 1952.

Quelle:
wikipedia.de
Zum Download Carpack über den Sync
Mehr Informationen zum DTM Revival 2015
Hauptevent am Mittwoch, den 24.06.2015:
20:00 Uhr Training (Serverbeitritt über Pick-Up-Mode)
20:30 Uhr Qualifikation
21:00 Uhr Rennen (2min Waittime/ 100km)
Beim Rennen ist kein Pflichtboxenstop vorgeschrieben.
Wichtige Anmerkung: Zur Teilnahme wird das
Assetto Corsa Dream Pack 1
benötigt.
Zur Anmeldung Rennen
Am Donnerstag vor dem Hauptevent findet ein
Testrennen über die halbe Renndistanz
statt. Zusätzlich bietet die
GTR4u Academy
die Möglichkeit zum gezielten Trainieren.
Alle Fragen, Anregungen und Wünsche zu diesem Event bitte in diesen Thread
Grüße Sven